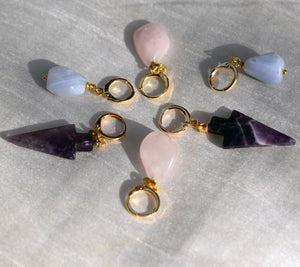 Introducing our stunning Purple Amethyst Arrow Earrings, featuring beautifully spaced amethyst gemstones shaped into arrows. These earrings have quickly become our favorites, combining the elegance of gemstones with a unique arrow design. No two stones are the same.
Brand: Ifemi Jewels
Finding: Gold plated brass ear huggies
Length: Less than an inch
Product Materials: Gold plated brass ear huggies, precious stones
Sold as a pair.
We have a wide range of jewellery made from different materials and with different elements. You'll receive more in depth guidance of jewellery care with your order. You can find some general tips on jewellery care here.
UK & INTERNATIONAL DELIVERY
We offer free delivery over £50 on all items and free delivery over £150 on all items for International orders. We send international parcels via International Courier with tracking and may require a signature on delivery, find more details here.